7861-93-1651 SENSOR KOMATSU parts

AIR, D155A, D155AX, D275A, D375A, D85EX, D85PX, DRAWBAR,, FRONT, HYDRAULIC, PC2000, TRAVEL, WA380, WA430, WA500 SENSOR


Alternative (cross code) number:
7861-93-1651
7861931651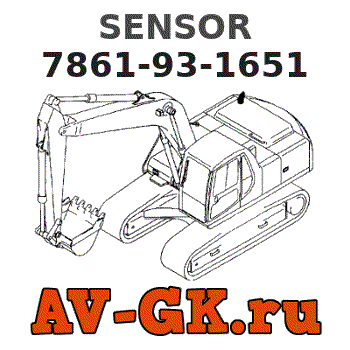 Average price:
4 349
.
Weight: 0.13 kg.
Buy
SENSOR 7861-93-1651 KOMATSU
genuine, new aftermarket tractor parts with delivery
BULLDOZERS, WHEEL LOADERS,
Analogs number:
7861-93-1650
79515273
7861-93-1652
7861-93-1653

HZYCKJ High Pressure Sensor Compatible for Komatsu PC200-7 PC240-7 PC300-7 PC350-7 OEM # 7861-93-1651
✔ Fitment - Manufacturer Part Number:7861-93-1651 || ✔ Vehicel Application:Komatsu PC200-7 PC240-7 PC300-7 PC350-7 || ✔Need Your Attention:Please use the year/make/model drop down bar confirm the compatibility before purchasing. And make sure our part number is the same with your existing one before purchase! || ✔Easy Install and Replacement:Easy to install and replace the old or stock one, great for install replacement. || ✔1 Year Warranty: Every product must take inspected and tested multiple times before the shipment, if you get any problems with our this item, please contact us in the first time, we will response it as soon as possible.
P/N: 7861-93-1651 PC200-7 WA380-6 WA430-6 WA470-6 WA500-6 D275A D375A D475A Excavator Water Pressure Sensor
Part Number: 7861-93-1651 || Model Number: PC200-7 WA380-6 WA430-6 WA470-6 WA500-6 D275A D375A D475A || Please make sure your model number and part number is the same as the title, we will sent the parts according to the title, if you need the other parts, tell us. || It is a aftermarket replacement accessories for excavator digger, not original part. But it can work good for you excavators. || Warranty: 3 month
Number on catalog scheme:
|$22
21
20
10
22
18
24
23
26
26
26
26
29
29
29
29
33
35
35
36
36
30
30
31
31
32
32
27
27
27
27
28
28
28
28
3
2
1
4
3
2
1
4
3
2
1
4
5
7
12
13
14
15
16
6
8
9
11
17
19
25
25
25
25
34
Compatible equipment models: 7861-93-1651:
Catalogs:
D375A-6 S/N 60001-UP
BULLDOZERS
D275A-5R S/N 35021-UP
BULLDOZERS
FRONT FRAME, WITH AUTO-GREASING SYSTEM
WHEEL LOADERS
WA380-6 S/N 65949-UP (EU Standard Machine)
WHEEL LOADERS
WA380-6 S/N 65949-UP (North America Standard Machine)
WHEEL LOADERS
D155AX-6 S/N 81028-UP
BULLDOZERS
D155AX-6 S/N 81028-UP (For EU)
BULLDOZERS
D375A-6 S/N 60001-UP (Mining Spec.)
BULLDOZERS
WA430-6 S/N 65501-UP (ecot3)
WHEEL LOADERS
WA430-6 S/N 65501-UP (ecot3, For EU)
WHEEL LOADERS
AIR CONDITIONER PIPING, WITH AIR CONDITIONER
WHEEL LOADERS
D155A-6R S/N 85077-UP
BULLDOZERS
PC2000-8 S/N 20196-UP
EXCAVATORS
TRAVEL ALARM
EXCAVATORS
D85PX-15E0 S/N 11609-UP (ecot3)
BULLDOZERS
DRAWBAR, HITCH TYPE, FOR EU NOISE REGURATION
BULLDOZERS
D85EX-15E0 S/N 11609-UP (ecot3)
BULLDOZERS
D85EX-15E0 S/N 11609-UP (ecot3, For EU)
BULLDOZERS
D85EX-15R S/N 20003-UP
BULLDOZERS
WA500-6 S/N 55479-UP (ecot3, For EU)
WHEEL LOADERS
HYDRAULIC PIPING, WITH 3-SPOOL CONTROL VALVE, BRAKE OIL COOLING SYSTEM
WHEEL LOADERS
WA500-6 S/N 55479-UP (ecot3, For North America)
WHEEL LOADERS
Parts sensor KOMATSU catalog: