150-70-13411 PIN KOMATSU parts

D135A, D150A, D155A, D155AX, D65E, D65EX, D68ESS, D70, D70LE, D80A, D80E, D80P, D85A, D85E, D85ESS, D85EX, D85P PIN


Alternative (cross code) number:
150-70-13411
1507013411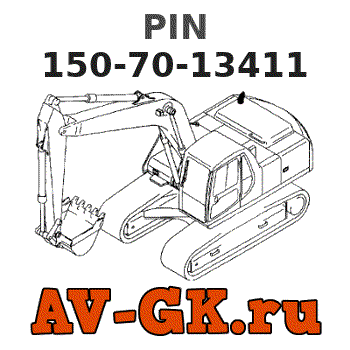 Average price:
10 184
.
Weight: 2.41 kg.
Buy
PIN 150-70-13411 KOMATSU
genuine, new aftermarket tractor parts with delivery
BULLDOZERS, CRAWLER LOADERS,
Made to fit 150-70-13411 PIN Komatsu New Aftermarket
150-70-13411 Made to fit Komatsu ( 150-70-13411 Komatsu) || Meets OEM Specs for Fit and Performance || This is a new item 150-70-13411 PIN || Items are sold by part number only. Picture is for illustration purposes and the part or parts may be different in color or quantity. || Use of any OEM manufacturer name is not intended to represent any relationship between the two companies, instead it indicates that we sell replacement parts that are compatible with OEM components.
Number on catalog scheme:
41
2
24
19
8
5
9
11
10
9
12
13
14
4
13
14
7
43
42
39
38
37
15
35
41
41
43
42
15
41
34
33
32
31
42
43
28
30
29
24
27
25
26
22
21
20
23
18
17
16
1
35
16
19
18
17
40
36
5
6
3
Compatible equipment models: 150-70-13411:
D155AX-6 S/N 81028-UP
BULLDOZERS
D155AX-6 S/N 81028-UP (For EU)
BULLDOZERS
D85EX-15E0 S/N 11609-UP (ecot3)
BULLDOZERS
D85EX-15E0 S/N 11609-UP (ecot3, For EU)
BULLDOZERS
D85EX-15R S/N 20003-UP
BULLDOZERS
D65EX-17 S/N 1001-UP
BULLDOZERS
D135A-1 S/N 10001-UP
BULLDOZERS
D135A-2 S/N 10301-UP
BULLDOZERS
D135A-2 S/N 10301-UP
BULLDOZERS
D150A-1 S/N 5508-UP
BULLDOZERS
D155A-2A S/N 57001-UP (SA6D140E-2 (Emission) Eng. Installed)
BULLDOZERS
D155A-2A S/N 57001-UP
BULLDOZERS
D155A-1 S/N 5508-UP
BULLDOZERS
D155A-1 S/N 5508-UP
BULLDOZERS
D155A-2 S/N 50001-UP (S6D155-4 Eng. Installed)
BULLDOZERS
D155A-2 S/N 50001-UP
BULLDOZERS
D155A-3 S/N 60001-UP
BULLDOZERS
D155A-5 S/N 65001-UP
BULLDOZERS
D155AX-3C S/N 60001-UP (For EC / Chassis only)
BULLDOZERS
D155AX-3 S/N 60001-UP
BULLDOZERS
D155AX-3 S/N 60001-UP
BULLDOZERS
D155AX-5 S/N 70001-UP
BULLDOZERS
D155AX-5 S/N 70001-UP
BULLDOZERS
D155AX-6 S/N 80001-81027 (ecot3)
BULLDOZERS
D155AX-6A S/N 80001-81027 (ecot3, For EU)
BULLDOZERS
D65E-12 S/N 60942-UP (S6D125E-2 (Emission) Eng. Installed)
BULLDOZERS
D65E-12-E S/N 60942-UP
BULLDOZERS
D65E-12 S/N 60001-60941
BULLDOZERS
D65E-12 S/N 60001-60941
BULLDOZERS
D65EX-12 S/N 60942-UP (S6D125E-2 (Emission) Eng. Installed)
BULLDOZERS
D65EX-12 S/N 60001-60941
BULLDOZERS
D65EX-12-E S/N 60942-UP
BULLDOZERS
D65EX-12 S/N 60001-60941
BULLDOZERS
D65EX-15 S/N 67001-UP
BULLDOZERS
D65EX-12U S/N 60942-UP (For EU)
BULLDOZERS
D65EX-15 S/N 67001-UP (Overseas Version)
BULLDOZERS
D65EX-15E0 S/N 69001-UP (ecot3)
BULLDOZERS
D68ESS-12 S/N 1001-UP (Overseas Version)
CRAWLER LOADERS
D70LE-12 S/N 60001-UP
BULLDOZERS
D80A-12 S/N 10001-UP
BULLDOZERS
D80A-12 S/N 10001-UP
BULLDOZERS
D80A-18 S/N 25001-UP
BULLDOZERS
D80E-18 S/N 25001-UP
BULLDOZERS
D80P-18 S/N 2001-UP
BULLDOZERS
D85A-12 S/N 10001-UP
BULLDOZERS
D85A-12 S/N 10001-UP
BULLDOZERS
D85A-18 S/N 25001-UP
BULLDOZERS
D85A-21B S/N 36537-UP (Custom S6D125E-2 (Emission) Eng. Installed)
BULLDOZERS
D85A-21-E S/N 36534-UP
BULLDOZERS
D85A-21 S/N 35001-36533
BULLDOZERS
D85A-21A S/N 35001-36533
BULLDOZERS
D85A-21B S/N 35001-36536 (Custom Spec.)
BULLDOZERS
D85A-21 S/N 36534-UP (S6D125E-2 (Emission) Eng. Installed)
BULLDOZERS
D85E-18 S/N 25001-UP
BULLDOZERS
D85E-21 S/N 36534-UP (S6D125E-2 (Emission) Eng. Installed)
BULLDOZERS
D85E-21 S/N 35001-36533
BULLDOZERS
D85E-SS-2A S/N 3001-3033 (Overseas Version)
BULLDOZERS
D85E-SS-2A-E S/N 3034-UP (Overseas Version / S6D125E-2 (Emission) Eng. Installed)
BULLDOZERS
D85E-SS-2-E S/N 3034-UP (For Southeast Asia / S6D125E-3 (Emission) Eng. Installed)
BULLDOZERS
D85E-SS-2 S/N 3001-3033 (For Southeast Asia)
BULLDOZERS
D85ESS-2 S/N 3001-3033 (For Southeast Asia)
CRAWLER LOADERS
D85ESS-2A S/N 3001-3033 (Overseas Version)
BULLDOZERS
D85ESS-2 S/N 3034-UP (For Southeast Asia / S6D125E-2 (Emission) Eng. Installed)
BULLDOZERS
D85ESS-2A S/N 3034-UP (S6D125E-2 (Emission) Eng. Installed)
BULLDOZERS
D85EX-15 S/N 10001-UP (Landfill Spec.)
BULLDOZERS
D85EX-15 S/N 10001-UP
BULLDOZERS
D85EX-15E0 S/N 11001-11608 (ecot3)
BULLDOZERS
D85EX-15E0 S/N 11001-11608 (ecot3, For EU)
BULLDOZERS
D85EX-15R S/N 20001-20002
BULLDOZERS
D85P-18 S/N 2001-UP
BULLDOZERS
D85P-21 S/N 3689-UP (S6D125E-2 (Emission) Eng. Installed)
BULLDOZERS
D85P-21-E S/N 3689-UP
BULLDOZERS
D85P-21 S/N 3001-3688
BULLDOZERS
D85P-21A S/N 3001-3688
BULLDOZERS
D70-LE SERIAL NUMBERS J10001 AND UP
BULLDOZERS
D85E-SS-2 SERIAL NUMBERS:J11264
BULLDOZERS
Parts pin KOMATSU catalog: