01580-12016 NUT KOMATSU parts

AIR, D65EX, D65PX, D65WX, FRONT, GD555, GD655, GD675, HM250, PC130, PC160, PC190, PC220, PC240, PC290, PC300, PC350, PC400, PC450, PRESSURE, RAIN NUT


Alternative (cross code) number:
01580-12016
0158012016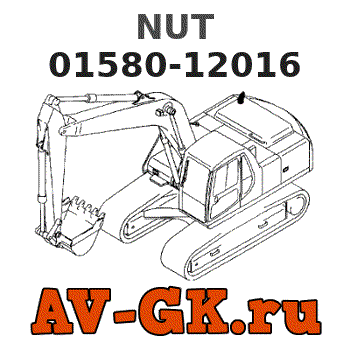 Average price:
208
.
Weight: 0.057 kg.
Buy
NUT 01580-12016 KOMATSU
genuine, new aftermarket tractor parts with delivery
BULLDOZERS, WHINCHES,
Made to fit 01580-12016 NUT P60 Komatsu New Aftermarket
01580-12016 Made to fit Komatsu ( 01580-12016 Komatsu) || Meets OEM Specs for Fit and Performance || This is a new item 01580-12016 NUT P60 || Items are sold by part number only. Picture is for illustration purposes and the part or parts may be different in color or quantity. || Use of any OEM manufacturer name is not intended to represent any relationship between the two companies, instead it indicates that we sell replacement parts that are compatible with OEM components.
Number on catalog scheme:
3
1
1
2
2
4
4
4
4
3
3
3
3
5
5
7
6
7
6
8
9
10
11
14
12
13
Compatible equipment models: 01580-12016:
PC290-8K S/N 10001-UP ( Standard Machine )
EXCAVATORS
PC220LC-8 S/N 70001-UP
EXCAVATORS
PC240-8K S/N 10001-UP ( Standard Machine )
EXCAVATORS
PC350-8 S/N 60001-UP
EXCAVATORS
PC300-8 S/N 60001-UP
EXCAVATORS
RAIN VISOR
EXCAVATORS
PRESSURE SWITCH BLOCK
EXCAVATORS
PC130-8 S/N 80001-UP
EXCAVATORS
PC130-8 S/N 80001-UP
EXCAVATORS
PC130-8 S/N C30001-UP
EXCAVATORS
PC400LC-8 S/N 70001-UP
EXCAVATORS
PC400-8 S/N 70001-UP
EXCAVATORS
PC400-8R S/N 75001-UP
EXCAVATORS
PC400LC-8R S/N 75001-UP
EXCAVATORS
PC450-8 S/N 70001-UP
EXCAVATORS
PC450-8R S/N 75001-UP
EXCAVATORS
PC450LC-8 S/N 70001-UP
EXCAVATORS
PC450LC-8R S/N 75001-UP
EXCAVATORS
PC160LC-8 S/N 25001-UP
EXCAVATORS
HM250-2 S/N 2001-UP
DUMP TRUCKS
PC160LC-8 S/N K50001-UP
EXCAVATORS
PC190LC-8 S/N K50001-UP
EXCAVATORS
PC190NLC-8 S/N K50001-UP
EXCAVATORS
D65EX-16 S/N 80001-UP
BULLDOZERS
D65PX-16 S/N 80001-UP
BULLDOZERS
D65WX-16 S/N 80001-UP
BULLDOZERS
AIR CLEANER
EXCAVATORS
PC130-8 S/N C30001-UP
EXCAVATORS
PC160LC-8 S/N C20001-UP
EXCAVATORS
GD555-5 S/N 55001-UP
GRADERS
GD675-5 S/N 55001-UP
GRADERS
GD655-5 S/N 55001-UP
GRADERS
FRONT FRAME, WITH AUTO-GREASING SYSTEM
WHEEL LOADERS
Parts nut KOMATSU catalog: